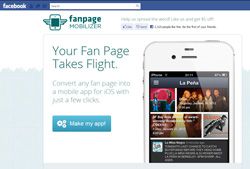 Great news for businesses that have established a successful Facebook strategy and are looking towards how a Mobile App may also work for their business. Whilst an interactive, task specific App may still need substantial time and resources committed to its development, getting your business Mobile in a simple communications based platform will be available soon that you may have thought!
How? The technology is supplied by mobile app builder Cabana, called Fan Page Mobilizer, the Facebook app lets the owner of any Facebook fan page take that contact and reformat it into a mobile web app.
The web app pulls information from the fan page, and uses it to power the content you see in the mobile app for your brand.
Getting started with the Facebook app is as easy as identifying what page you would like to turn into a mobile app, then choosing the title for the page, icon image, and start-up screen.
Fan page owners can include any information they want from their page in their mobile app, including wall posts, images, and events.
Essentially just a mobile-friendly version of your traditional fan page, the mobile app is accessed by going to a URL (so you'll have to pass that out to anyone who might want to take advantage of the app).
Since everything in the app comes from your fan page, updating the app's content is as easy as updating the fan page on Facebook.
Creating a mobile app for a fan page also doesn't require you to be the owner of that page. So if you have a brand you like to follow, you can create an app for it on your mobile phone that will update as the actual fan page owner updates the page's content.
Fan Page Mobilizer currently only works for iOS devices, however, an Android version is reportedly on the way soon. The app builder is free for anyone who likes the Facebook app on Facebook. Otherwise, the cost is $5.
Via Mashable